Lamentation from Jerusalem
12.10.2023
These are terrible days in Israel and Palestine
Our hearts are impossibly heavy as we send our condolences to the families of the deceased, and pray for the injured and those missing and kidnapped.
The news is almost unbearably hard to watch – but we cannot turn away for long. We are surrounded by horror stories of suffering and pain. And we are full of fear at what the coming days will bring. Our desperate hope is that the killing will stop – and that maybe out of all this pain we can finally find the understanding that violence and military might will never be the answer, will never bring us the peace, justice and security we all crave, Palestinians and Israelis alike.
And in the meanwhile, we will continue to do our utmost to ensure that hatred, incitement and vengeance do not rule the day – and instead choose to work side by side in partnership to build a better future for us all.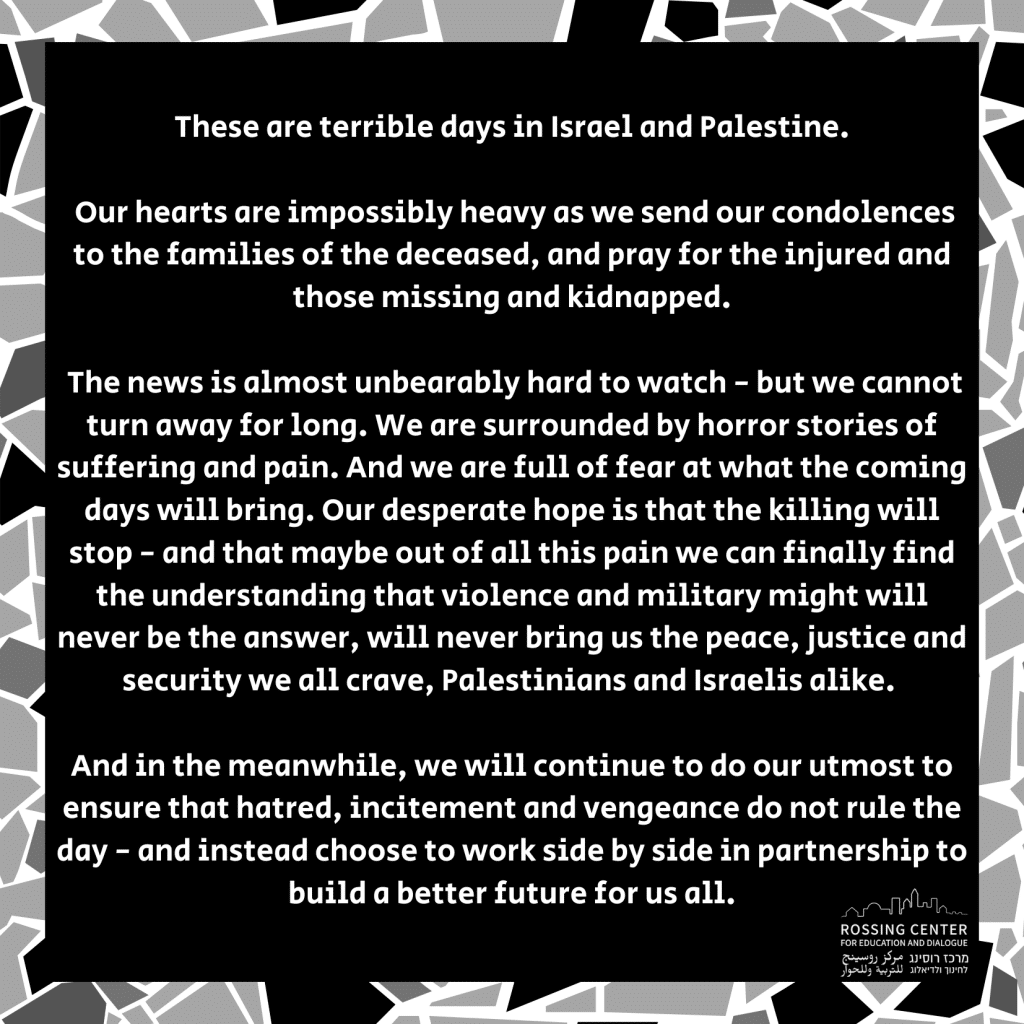 نتألم مع الجميع | כואבים עם כולם
ان هذه الأيام لعصيبة وقاسية
אלה הם ימים נוראים
12.10.2023
بقلب حزين نتقدم بتعازينا للعائلات االثكلى، ونصلي من أجل الجرحى والمفقودين والمختطفين
الأخبار لا تطاق – لكن لا يمكنك التوقف عن مشاهدتها. لقد غمرتنا قصص الرعب والمعاناة والألم. ويملأنا الخوف مما تحمله الأيام القادمة. أملنا هو أن يتوقف القتل – وربما يمكننا من كل هذا الألم أن نتوصل أخيرا إلى فهم مفاده أن العنف يدعو إلى المزيد من العنف وأن القوة العسكرية وحدها لا تستطيع أن تجلب لنا السلام والعدالة والأمن الذي نتوق إليه جميعا، الفلسطينيين والإسرائيليين على حد سواء
وفي غضون ذلك، سنواصل بذل قصارى جهدنا للتأكد من عدم سيطرة الكراهية والتحريض والانتقام – وبدلاً من ذلك، نختار مرارًا وتكرارًا مواصلة العمل في شراكة لبناء مستقبل أفضل لنا جميعًا
בלב כבד אנחנו שולחים את תנחומינו למשפחות הנפגעות, ומתפללים לטובת הפצועים, הנעדרים והנחטפים
החדשות קשות מנשוא – אך אי אפשר להפסיק לצפות בהן. אנו מוצפים בסיפורי אימה של סבל וכאב. ואנחנו מלאים בפחד ממה שהימים הבאים יביאו. תקוותנו היא שההרג יפסק – ושאולי מכל הכאב הזה נוכל סוף סוף למצוא את ההבנה שאולי האלימות והכוח הצבאי לעולם לא יהיו התשובה, לעולם לא יביאו לנו את השלום, הצדק והביטחון שאנחנו כולנו משתוקקים לו, הפלסטינים והישראלים כאחד
ובינתיים, נמשיך לעשות את מיטבנו כדי לוודא ששנאה, הסתה ונקמה לא ישלטו – ובמקום זאת, אנו בוחרים שוב ושוב להמשיך לעבוד בשותפות לבניית עתיד טוב יותר עבור כולנו