Scroll down to view upcoming and past public events, newsletters, and short articles on topics related to interreligious relations and dialogue. 
Don't miss this informing discussion on the influence of the Israeli-Palestinian conflict on interreligious dialogue around the world.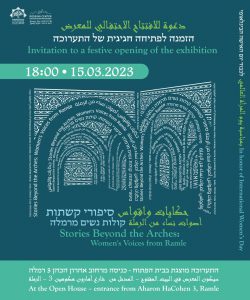 We are excited to invite you to the opening of the exhibition "Stories Beyond the Arches: Women's Voices from Ramle", which will be held on 15.3 at 18:00 in a mark of International Women's Day which is celebrated a week before. The exhibition is the result of the work of the Open House volunteers, in collaboration with Keshet 360 Ramla Youth Center.
If you want to see what we've been up to this last year, click here for the PDF version