Resurrection of the Human Body according to John of Dara's Mimro I:4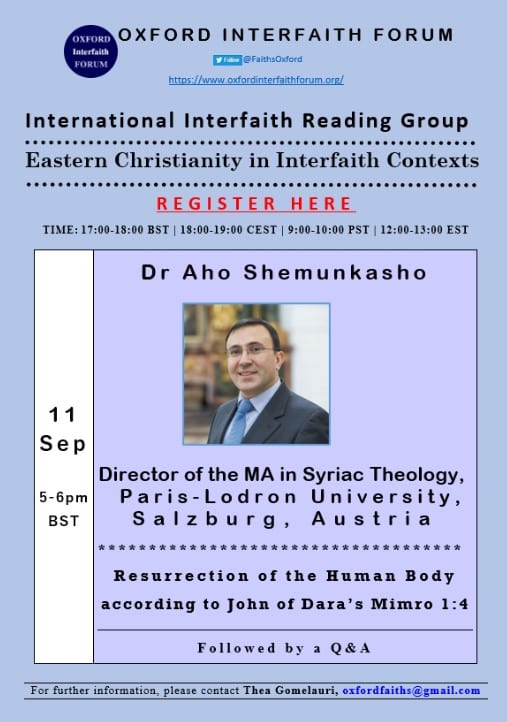 Dr Aho Shemunkasho, Director of the MA in Syriac Theology in Paris-Lodron University of Salzburg, Austria, will lead a session of the International Interfaith Reading Group on Eastern Christianity in Interfaith Contexts.
Title: Resurrection of the human body according to John of Dara's Mimro I:4: "The bodies, which dissolve and change their shape after the departure of the soul, will be resurrected once again and the souls will return to them to receive their future rewards."
Abstract: The doctrine of life after death is a key aspect in Christian faith and contains the resurrection of the human body. The incomprehensible mystery of the kind of resurrection captivated John of Dara, a Syriac Orthodox bishop from the 9th century. With his sincere interest in the heavenly word, John of Dara draws his attention to the renewal of the world and within it the resurrection of the human body. He composed four mimre on the topic, in addition to a mimro on the divine resurrection of Jesus Christ (Easter).
Attempting to explore the manner of resurrection, John emphasises the uniqueness of the human being, existing of body and soul in this life. Likewise in the renewed future world that each person is supposed to have a physical body and a spiritual soul. In explaining this, mimro one, chapter four highlights biblical references and selects a few natural metaphors. Human conscience anticipates life after death.

Speaker's biography: Aho Shemunkasho edited and translated the four mimre of John of Dara On the Resurrection of Human Bodies. He is a Syriac native speaker from Turabdin, studied in Paderborn and Oxford. He introduced Syriac-Orthodox religious education to state schools in North-Rhine Westphalia, Germany, initiated an MA in Syriac Theology and built up a student house, Beth Suryoye, for Syriac theological formation in Salzburg, Austria.
Chair: Professor Sebastian Brock FBA, University of Oxford, UK
Date: 11 September, 2023
Time: 17:00-18:00 BST | 9:00-10:00 PDT | 12:00-13:00 EDT
Venue: Online