One Long Listening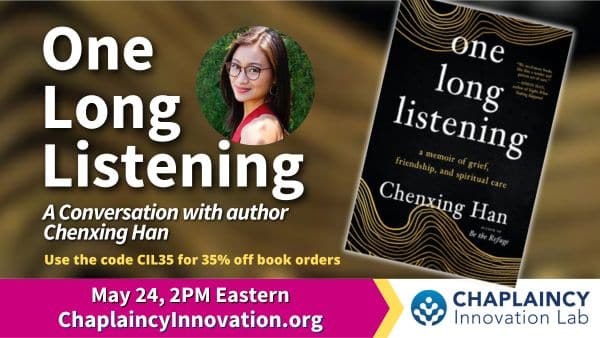 May 24, 2023 Time: 9:00 pm – 10:30 pm via Zoom
Join Chenxing Han, author of Be the Refuge: Raising the Voices of Asian American Buddhists (North Atlantic Books, 2021), for a discussion of her new book One Long Listening: A Memoir of Grief, Friendship, and Spiritual Care.
From Penguin Random House:
How do we grieve our losses? How can we care for our spirits? one long listening offers enduring companionship to all who ask these searing, timeless questions.
Immigrant daughter, novice chaplain, bereaved friend: author Chenxing Han (Be the Refuge) takes us on a pilgrimage through the wilds of grief and laughter, pain and impermanence, reconnecting us to both the heartache and inexplicable brightness of being human. Eddying around three autumns of Han's life, one long listening journeys from a mountaintop monastery in Taiwan to West Coast oncology wards, from oceanside Ireland to riverfront Phnom Penh. Through letters to a dying friend, bedside chaplaincy visits, and memories of a migratory childhood, Han's startling, searching memoir cuts a singular portrait of a spiritual caregiver in training. Just as we touch the depths, bracing for resolution, Han's swift, multilingual prose sweeps us back to unknowingness: 不知最親切. Not knowing is most intimate. Chinese mothers, hillside graves. A dreamed olive tree, a lost Siberian crane. The music of scripts and silence. These shards–bright, broken, giddy, aching–are mirrors to our own lives in joy and sorrow. A testament to enduring connection by a fresh and urgent new literary voice, one long listening asks fearlessly into the stories we inhabit, the hopes we relinquish, and what it means simply to be, to and for the ones we love.
The Lab community can save 35% on book orders by using the code CIL35 on the publisher's website.
Chenxing Han is the author of the widely reviewed Be the Refuge: Raising the Voices of Asian American Buddhists with North Atlantic Books. She is a regular contributor to Lion's Roar, Tricycle, Buddhadharma, and other publications, and a frequent speaker and workshop leader at schools, universities, and Buddhist communities across the nation. She has received fellowships from Hedgebrook, Hemera Foundation, the Lenz Foundation, and elsewhere.
Chenxing holds a BA from Stanford University, an MA in Buddhist Studies from the Graduate Theological Union, and a certificate in Buddhist chaplaincy from the Institute of Buddhist Studies in Berkeley, California. She is a co-teacher of Listening to the Buddhists in Our Backyard at Phillips Academy Andover, and a co-organizer of May We Gather: A National Buddhist Memorial for Asian American Ancestors.
Register:
https://us02web.zoom.us/webinar/register/WN_iu-FtsM6RoywPsvZgXmnMg#/registration