Gender Equality Empowerment for All – launch of Dialogue to Action Toolkit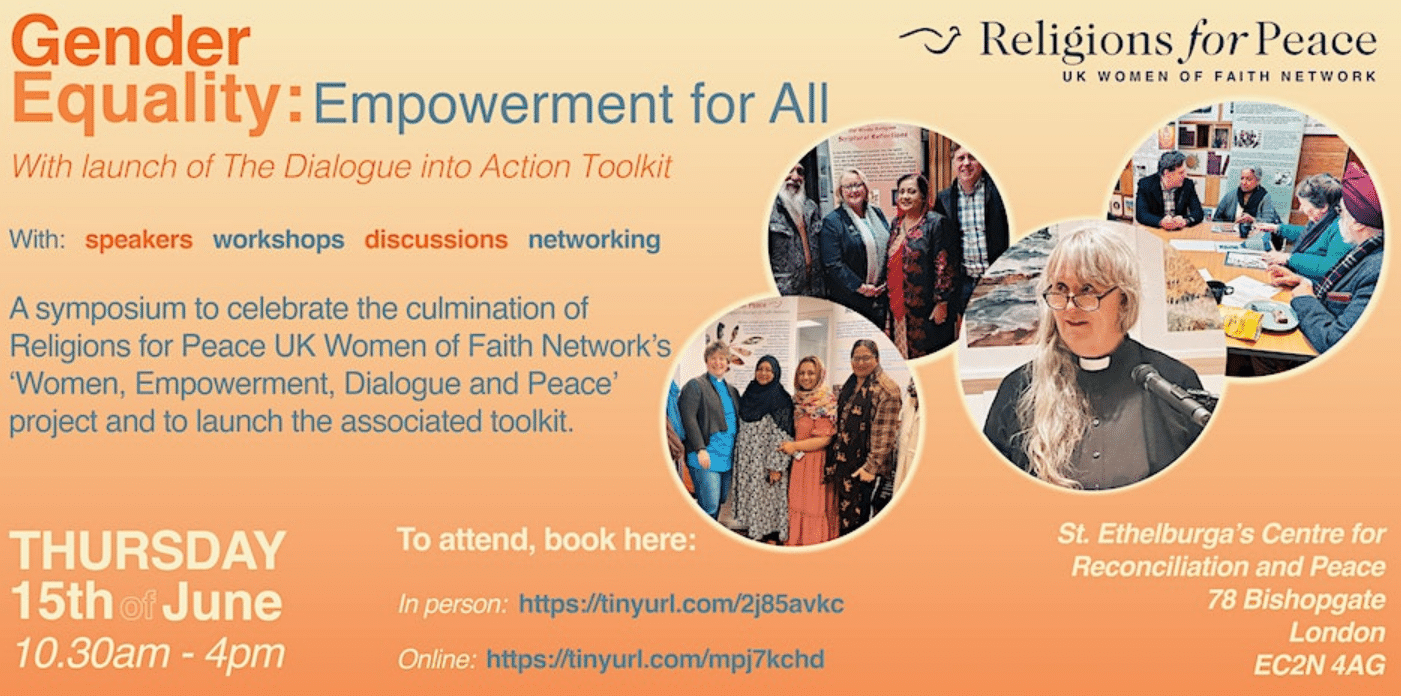 The UK Women of Faith Network has been involved with various projects in the past 2 years. In this celebratory event we are featuring some of our speakers, allowing time to have QA interaction and topical dicussions. We are also taking this opportunity to launch a Toolkit which we would like to share with faith / belief communities, thus providing blueprints for our network organisations to take on the work themselves in their faith traditions.
https://www.eventbrite.co.uk/e/gender-equality-empowerment-for-all-launch-of-dialogue-to-action-toolkit-tickets-611151750337
Programme:
10.30am – Arrivals, refreshments, opportunity for networking
11am – 'Stories of Women of Faith – how can they inspire and empower us today' with speakers including:
Dr Lindsay Simmonds (from the Jewish faith tradition) – Dr Lindsay Simmonds is a Research Officer at the Religion and Global Society Department at the London School of Economics; her particular remit is research into Women of Faith and Peacebuilding.
Dr Sofia Rehman (from the Islamic faith tradition) – Dr Sofia Rehman is an independent scholar and author specialising in Islam and Gender. As a PhD candidate she was a PG Impact Fellow at the Centre of Religion and Public Life and PRHS Scholar.
Dr Lakshmi Vyas (from the Hindu faith tradition) – Dr Lakshmi Vyas is Dr Lakshmi Vyas works tirelessly against all odds for the community in many organisations including the Hindu Forum of Europe, Religions for Peace, the European Council of Religious Leaders, the International Association of Religious Freedom, Hindu Matters in Britain, Protecting Earth and the Women of Faith Network.
12.15pm – 'The Importance of Male Allies' with speakers including:
Jeeves Rohilla – Deputy Head of Operations at Faiths Forum | Founder & CEO of the National Multifaith Youth Centre.
Shaykh Ibrahim Mogra – Trustee of Religions for Peace U.K., Co-Chair of Christian Muslim Forum and National Council Member of The Muslim Council of Britain.
1.15 – 2pm – lunch
2-4pm – Interactive Workshops based on the RfPUK Women of Faith Network's new resource, 'Empowering Women of Faith – a toolkit for use in faith, interfaith, secular and educational settings'.
4pm – close.